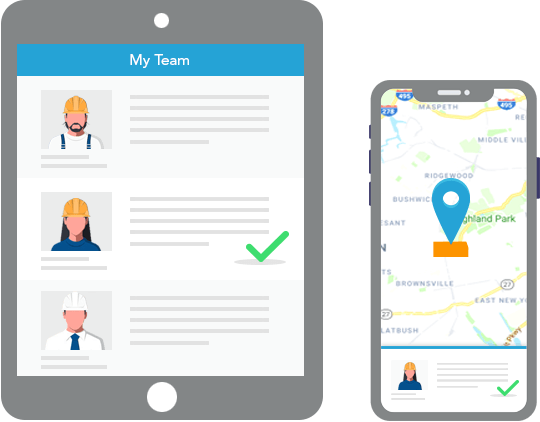 Data Collection App supports Android and iOS Devices including phones, notepads
Field data collection app for any smartphone. Utilize indoors & outdoors location data to geotag and validate data collected. Support any type of data including rich media – tasks pick-list, notes, signatures, photos, QR/barcode scans, and more.
Customize access based on org structure.
Powerful tools that fit into a Pocket
Add Context to Every Data
Add the context of time and location to any data (forms, pictures, signatures, notes). Set up rules to validate data and generate real-time exceptions. Connect these to back office operations using SMS, Email, IVR.
Collaboration
Create custom forms in minutes and dispatch to phones in real time. Customize roles and access permissions for users (or groups).
Minimize Errors
Set up smart fields within any forms: auto-computed fields, required/mandatory fields, and validation to minimize user errors.
Smart Workflows for Exceptions Handling and Routing
Enforce business-specific conditional logic for all mission-critical data from the field. Automate exception handling and trigger alerts tailored to your operation's needs.
For example, collect data from a plant floor. If boiler temperature in the plant is more than 50 degrees, send an immediate alert to back-office Operations Center.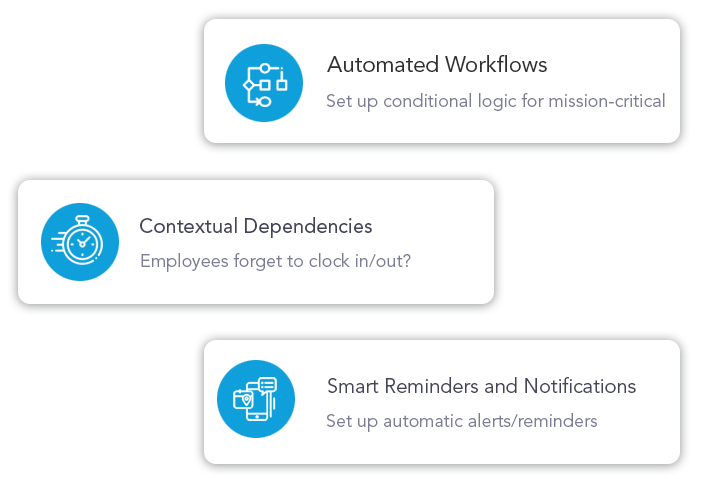 Conditional Logic for Mission-critical data
Automated Workflows
Set up conditional logic for mission-critical data from the field. Automate exceptions handling by routing alerts to appropriate back office team or field managers.
Contextual Dependencies
Set up a customized time and location dependencies for data collections. Trigger rules to generate exceptions alerts when violated.
Smart Reminders and Notifications
Set up automatic alerts/reminders to users based on their work schedule and tasks. Example: remind a user if they leave the premise prior to filling out a Proof-of-Service form.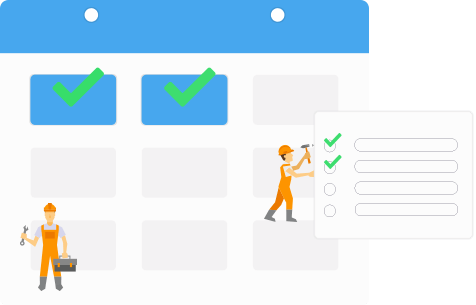 Automate Scheduling and Job-dispatch
Set up custom work schedules for each employee (or group) based on their time zone. Assign "tasks", and "jobs" (worksites).
Create custom "work rules" for each employee (or group) to automate schedule and dispatch based on the activity (or inactivity) from the field.
Automate Operations & Dispatch
Job Dispatch via Geofencing
Assign "customers", "jobs", and "tasks" for employees based on their work schedule. Users can view assignments via the app and mark status in real time.
Routing and Mileage
Employees can view the best route and access directions help for their assignments via the app. The system automatically computes mileage.
Text, IVR Call, and App based Job Dispatch
Automate job dispatch based on work rules and schedule. Send notifications and reminders via text message, custom voice call (IVR), or app notifications.